Northern Ireland venues
Northern Ireland might be a relatively small country, but it punches well above its weight when it comes to live music.
Many of its small music venues certainly live up to their descriptions, some even being labelled cramped – though we prefer 'cosy'. However, as Culture Northern Ireland aptly put it, these venues stand tall as creative hubs in their communities.
Those at the heart of Northern Ireland's thriving live music scene work tirelessly to ensure its aspiring artists are given a platform on which to launch themselves. For instance, The Sunflower Bar in Belfast hosts a live music event every day of the week.
Not only do these venues play a crucial role in the development of new music, but they have also moulded the stars of yesteryear.
Frank Turner performed at Black Box in Belfast while still relatively unknown, as did Two Door Cinema Club a year before releasing their debut album.
These examples alone highlight how invaluable Northern Ireland's small venues are in raising the profiles of up-and-coming musicians.
To quote the Oh Yeah Music Centre in Belfast, a small live music venue which was founded by a contingent which included Gary Lightbody of Snow Patrol: "Music is a valuable agent in Northern Ireland, a catalyst that changes lives for the better."
Discover Northern Ireland's small music venues through our interactive map above.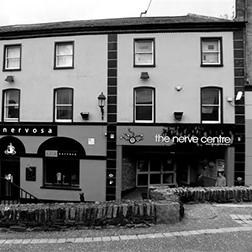 Nerve Centre, Derry
Did you know that...
The Nerve Centre in Derry is estimated to benefit more than 120,000 people through its programme of arts events, cutting-edge projects, creative learning centres, training opportunities, and state-of-the-art production facilities.
Oh Yeah is Belfast's dedicated music hub. Our venue is a 300-capacity room on the ground floor of a building that began life as a whiskey warehouse. Open since 2007, the venue has featured hundreds of gigs. It's a place for new and aspiring artists from Northern Ireland but has also played host to some of the biggest bands in the world.
We've hosted legends like Ash, Two Door Cinema Club and The 1975 in their early days and we continue to play host to top talent. Recently, we've held shows by Frank Carter and The Rattlesnakes, The Big Moon and our upcoming shows include Chasing Abbey and The Academic.
Damien McAdams, Operations Director at the Oh Yeah Music Centre
What's On In Northern Ireland?
Stendhal Festival in Limavady has been voted the Best Small Music Festival in Northern Ireland three years in a row and through the years has attracted such names as The Undertones, Badly Drawn Boy and Frightened Rabbit.
Throughout the year, there are a number of live shows which are tailored to music-lovers from different backgrounds, such as Belsonic, Belfast Vital and The City of Derry Jazz And Big Band Festival.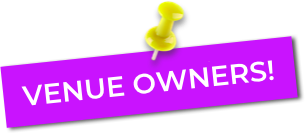 Can't find your venue?
Want more people to discover live music at your venue? We're constantly updating our directory with new venues. Click below to add yours to our listings for free!
Want more music news?
Subscribe to our newsletter to keep up-to-date with all the latest music news, information and offers from Insure4Music and the Ripe Group.
Thank you for subscribing, you'll be hearing from us soon!