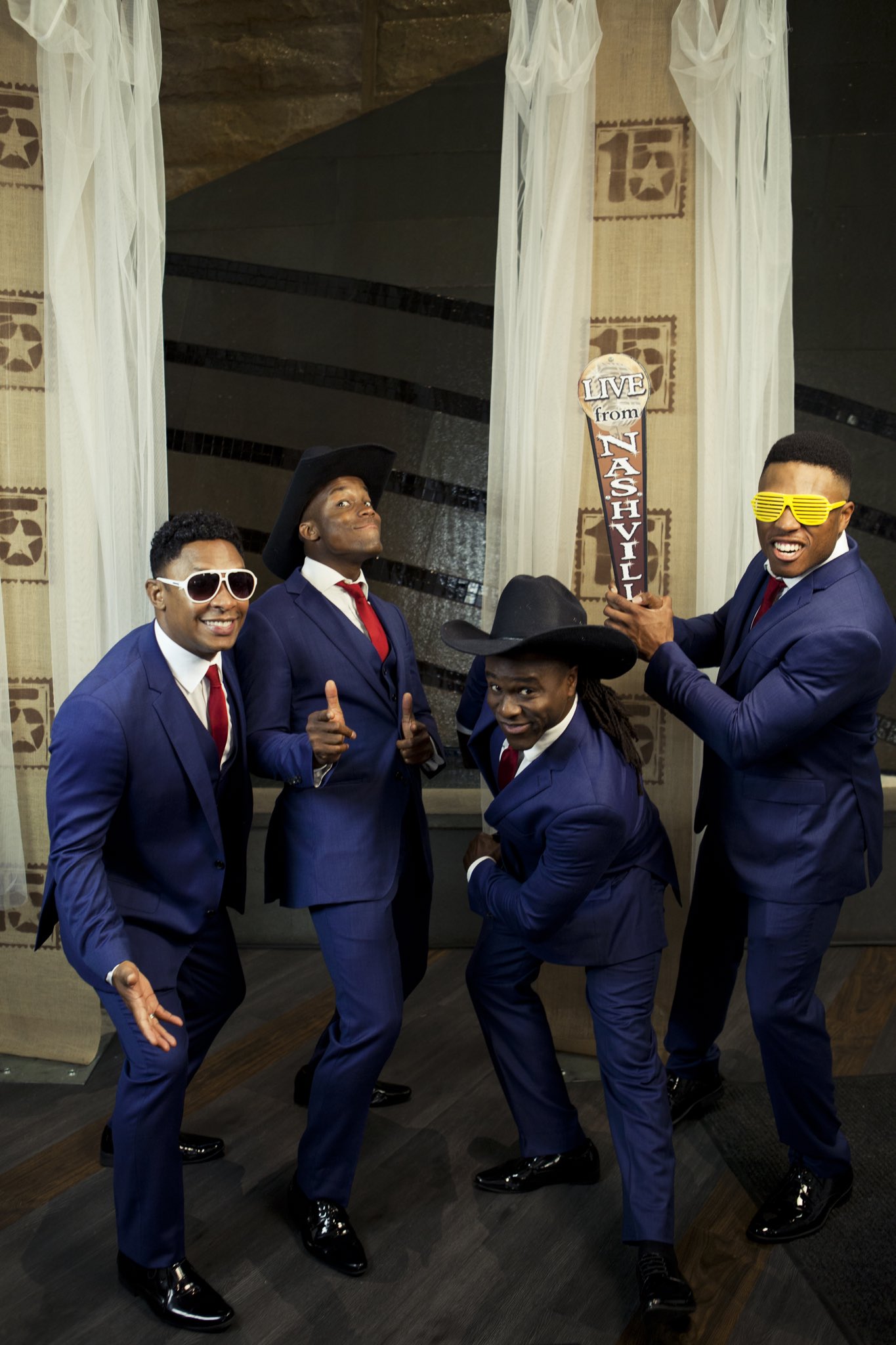 In Part I of our interview with Elias Hendricks of Vox Fortura, we discussed their journey to the semi-finals of Britain's Got Talent and their recent UK tour.
In Part II, we chat about pre-show nerves, their new member, and why they'd recommend us as a music insurance provider.
Do you find that you still get nervous before performances? Is it something that never goes away, even with all the experience that you have?
I think that nervousness is essential to performing. If you don't have the feeling that you want to do well, or you're not aware of the expectations of the people who are coming to hear you sing, then what are you doing it for?
It's like going on a rollercoaster and not having that initial feeling at the top of: "Oh my God, what's going to happen to me?". You know you're going to be OK but there's still that feeling that gives you the thrill. That's the thrill we all love as musicians and I think that, when you have it, it makes your performances better.
Vox Fortura have a new member now. What do you expect from him?
We have a few things that we hold dear as a band, like making sure our sound is in the right classical place – he does that really well. He's a fantastic deep bass opera singer, has a great look and understands the direction of the group, as well as being a very personable guy.
We all get along with him, and it's almost like he's been a part of the group all along. That's something that is very important. We always make sure that we're respectful of each other, so that we get on well together offstage.
How did you discover him? Did you do auditions or know him already?
We knew him already. Before we went on Britain's Got Talent, we were a five-piece and we went down to a four-piece in the show. During that process, we'd identified some people to possibly replace the original fifth member.
The world of black opera singers is not very big, so I knew him from my time in New York. We'd met at a few auditions before, and I identified that maybe we'd work together in future. He'd been interested in joining us before Britain's got Talent – so it was the perfect time for him and  for us.
What's  next for Vox Fortura? Have you got any more tour dates planned?
We have some cruise ship shows lined up. The cruise ships are great for us because we have time to both perform our shows and learn new music – all whilst travelling to the most beautiful places in the world, which is what we love. We've done many cruises around the world. We've just done one in Scandinavia, we have one in Asia and also one in the Mediterranean coming up. It's a great opportunity for us to expand our international fan base.
We've already started to fill up our calendar for next year. We've only just finished our showcase two weeks ago and we've booked out Arizona [USA] for next year. By October, we're looking to have the rest of our American dates filled for the year.
Is there anywhere in particular in the USA that you're really looking forward to playing?
I'm from Alabama and doing shows in Birmingham [USA] would be perfect for me because there's a big following there from my family. I have a huge family – there's 30 of us – and we could probably book out a whole venue with just them!
It would be amazing to get the guys back to Birmingham and sing there. Any shows around New York are also great, because I've spent a lot of time there as well. I also love playing Dallas, Texas. Just any place that I have a personal emotional connection to is great. Especially the South in general – that's where I was born and raised, and members of our team who aren't from there can have a great experience.
Is there anywhere else in the world that you would consider a dream destination?
I'd love to spend some time in West and South Africa. I just feel like Africa is one of those places that would be an unbelievable cultural experience for us as a black group, and it would be an experience for those areas of Africa as well – doing what we do in such a unique way. It would just be amazing to perform there eventually. There's nothing on the schedule yet but fingers crossed!
What would you say is your busiest period is? Do you have a certain season where you're busier?
Summer's busy, obviously, and I'd say that late fall and the holiday season is like gold for every musician. I don't remember the last time I was home for Christmas!
What are the riskiest sorts of gigs that you've performed, or are there any particular gigs that stand out in your mind as being risky?
We're a classical group, so it's not like we're going to be doing lots of flips and turns! But big venues are, believe it or not, easier. It's the smaller venues, where you're working with limited staff, that you need to be a little bit more careful at, because you don't have as many people helping you get through certain situations.
In big venues, there's a person for everything. We're like "Wow, there's a person just for the green room. OK cool! Yes, I will have some more coffee."
So, how much equipment do you carry and specifically what equipment do you travel with? Does it depend on where you're going?
It really does depend on where we're going and the size of the venue. Normally, if we're doing a very stripped back show where it's just us and a backing track, we don't have to travel with much. We travel with the banners for our merchandise and the mics and stools – unless they're provided for us.
If it gets to the point where you're travelling with a band, then it gets a bit more complicated because you have all the band's instruments. For our recent tour,it was just us, with mics, stools, and the backing track, singing the music we love.
What would you say is the most expensive item that either you own or take around with you on the road?
It would definitely be my keyboard.
Would you say it's your most treasured musical possession?
Yeah, you don't want to break your own keyboard. It's not like a mic stand, where if you drop it then it'll be fine. A keyboard is very heavy and more fragile, so if you drop it then that's it. It's definitely one of those things that you want to pack and look after yourself!
What would you say to other bands who either don't know about specialist music insurance, or might know about it but don't think they need it?
There's plenty of investments you make as a band that are of course important, but they don't necessarily protect you. You never know what's going to happen when you're on the road – there might be someone who decides to move your piano and it could fall over and break.
There's just too many things that could go wrong while you're on tour, and a lot of things that are out of your control, so just make the investment – take out music insurance. I'm not saying that bad things are going to happen, I'm just saying that you never know.
Would you recommend Insure4Music and if so, why?
I'd recommend you guys for sure! We were recommended to you by a couple of friends, which is always a good sign. On top of that, the service is really good. We had a few questions about what cover we should have, and we could just pick up the phone and call you. That, for us, is really important.
You guys are the people that we spoke to on the phone – as musicians, dealing with people who are decent is immensely important to us, and that's what we got. The people who we dealt with on the phone put the icing on the cake really. Your customer service is one of the biggest reasons why I would recommend you guys as a specialist music insurance provider.
If reading Elias' interview has convinced you to take out specialist music insurance ahead of an upcoming performance, find out about Insure4Music's tailor-made policies and only pay for the cover you want. Get an instant online quote today and discover how affordable peace of mind can be!